Forex Live Price Charts
Blazing Fast + Advanced Technology
Our Forex live price charts combine amazing power and our patent-pending technology to create the most powerful Forex charting solution available! 
4XVision Live Price Charts
The most powerful Forex charts you'll ever use
Our tools will help you find measurable and predictable opportunities to generate profits in the Forex Market. Our system and analytics will help you find trades with a high win percentage and minimal draw-down. TradeVision2020 will help you make consistently profitable trades. With a little practice, you will learn how to read price action patterns, currency correlations and much more! Join our ever-growing group of traders and learn to trade with confidence!
How do our charts work?
New! Our powerful tools now run on live price charts. Live price charts + our custom tools = more robust profits & a higher win rate! TradeVision2020 is your new secret weapon in Forex trading. 
Fast Data –

View any Forex currency pair with real-time price data on our super-fast charts. Catch moves before they happen and find trades other traders can't see. 

Technical Indicators –

Use over 70 technical indicators (custom and standard)

 to analyze currency pairs. Combine your favorite technical indicators with our custom data!

Drawing Tools –

A full suite of drawing tools includes Fibonacci retracement & extension, Gann, Cypher, Elliott, ABCD patterns, and more!

 

Everything you need to measure price action. 

Chart Types – Enjoy unlimited options with m

ore than 20 chart types including candlestick, Heikin Ashi, Kagi, Renko, Point & Figure, range and many more.

 

Chart Layouts – Save custom layouts and chart settings. Load your favorite indicators, draw trendlines, etc… save it as a custom layout and load it later. 
Trade Signals – As well as buy and sell signals, all of our

Trade TradeVision2020 custom data can be loaded on your chart and new alerts will signal in real-time!

System Status – If any of our servers or data go offline, you'll know instantly! You can use our tools with confidence!
Try Our Forex Matrix Trade Signals
Become a 4XVision Pro Member and leverage the power of our fully automated trading signals!
4XVision Mission Statement
Trader Trust is Our Highest Priority
We want traders to succeed and to that end we are designing the most advanced and simple-to-use Forex trading tools. With the advances in technology its possible to build these tools and to make them available to the average person. With the right experience, expertise and attitude we have created a plethora of trading apps, training materials, videos, and discussion forums geared towards empowering traders at all levels of experience and from all walks of life across the world to generate wealth. All you need is a laptop/desktop with internet connection and an attitude to learn, and our new trading tools will help you achieve success.
We all are aware that the unfortunate adverse economic impact of the COVID-19 pandemic. Although we cannot control these unfortunate events what we can control is how we react to these events, how we keep a positive attitude and try to find opportunities to improve our physical, psychological and financial well-being with focusing on self, family and society. We are contributing the best we can to empower individuals during these times by giving them the required training and tools to take steps towards becoming financially independent.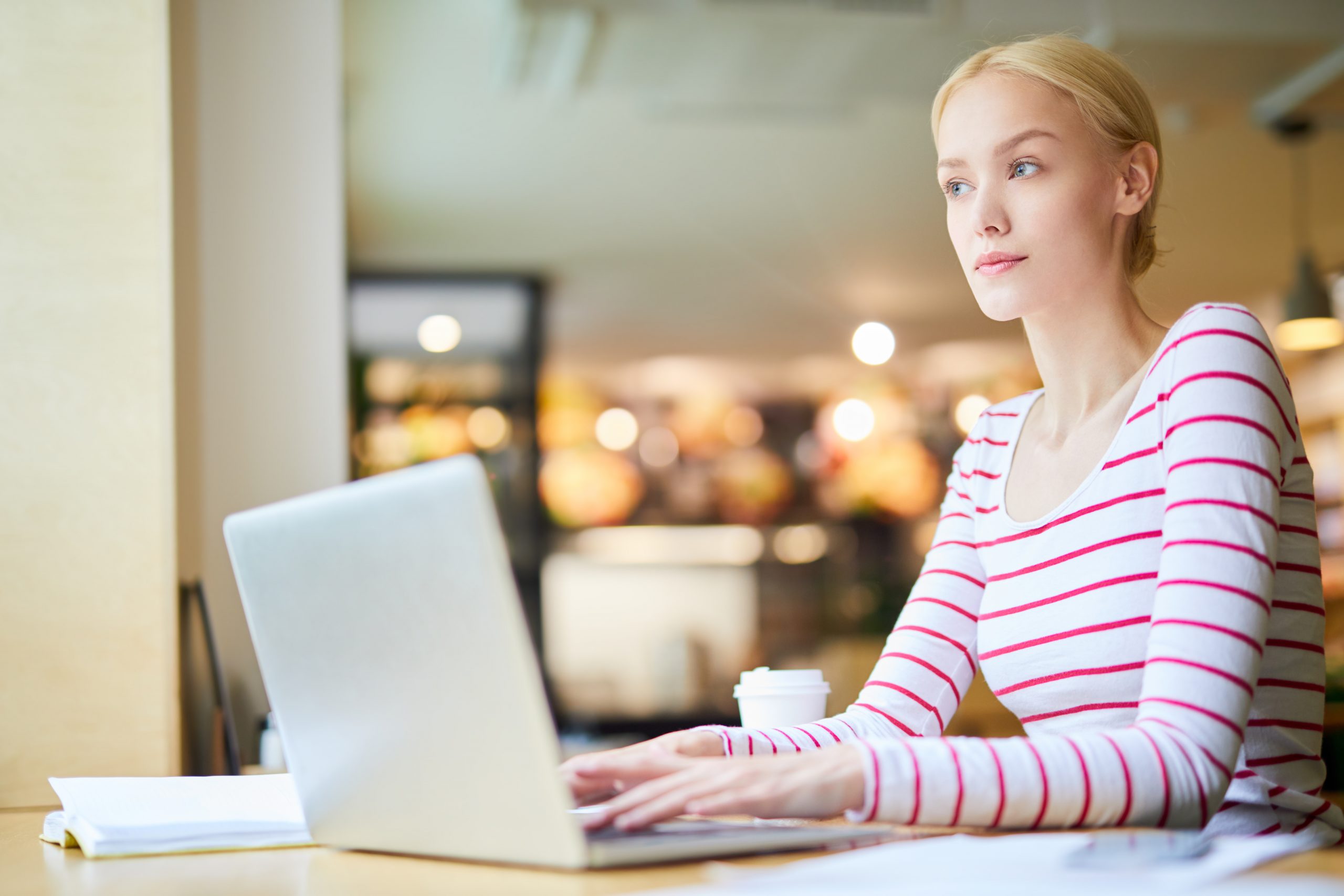 The majority of traders in the Forex world are men. However, many people from all walks of life posses critical thinking skills and are strong at analytical problem solving. If this resonates with you, then you may be a perfect candidate for trading! This is a fantastic opportunity for people of all ages (above 18) to learn how to trade and generate wealth. We have created the training and tools for you to succeed. All we need is your willingness and time commitment to learn.
4XVision Technology
Our patented technology will streamline your market analysis process and help you find trades in minutes, not hours or days.
The Currency Matrix separates pairs of currencies, so you can analyze each currency in separate graphs. In doing so, it siloes the process, providing a more efficient means to analyze market trends. You will be able to analyze the Forex Market measuring the strength and weaknesses of individual currencies.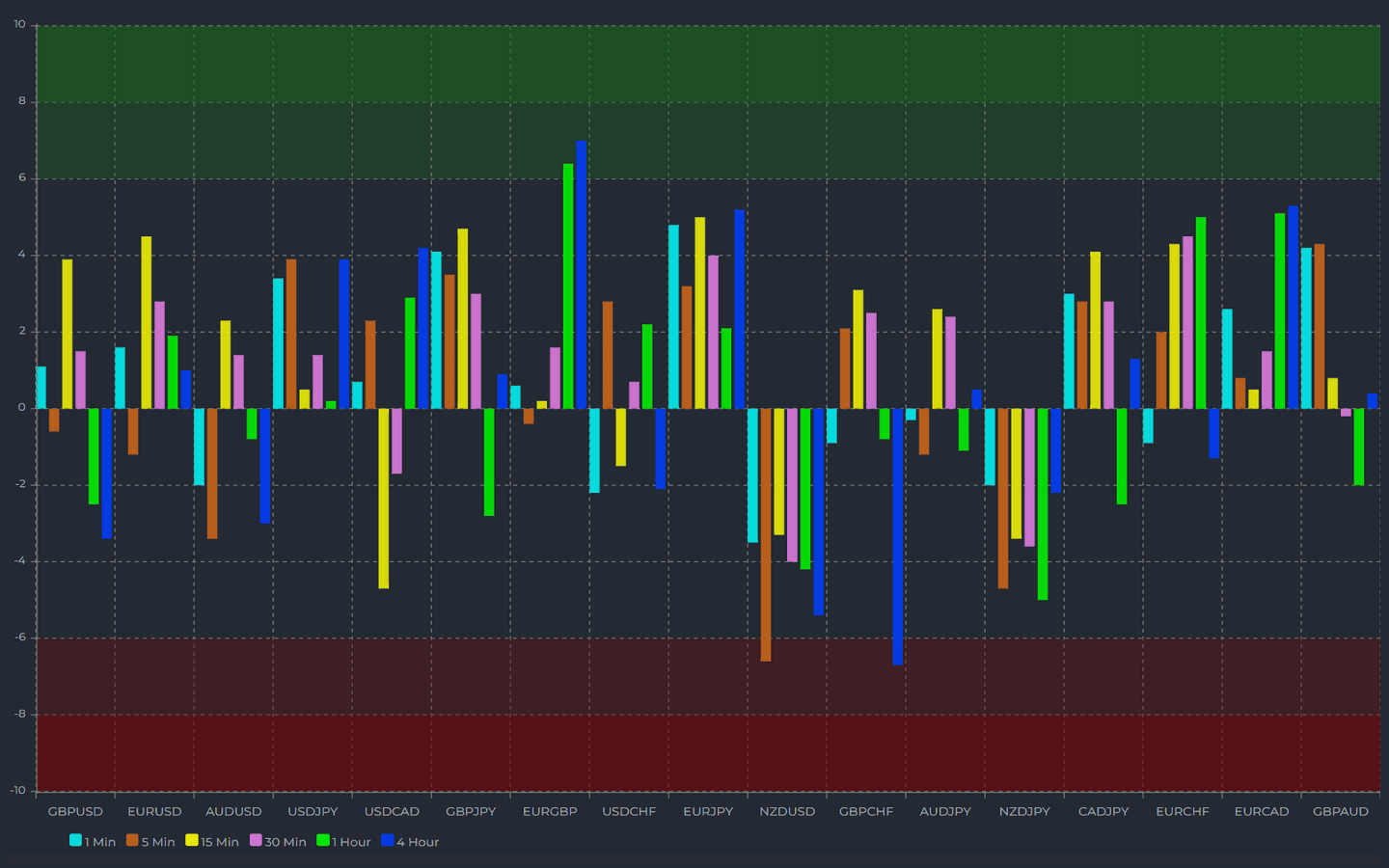 This powerful Forex trading tool combines trend speed with trend strength to show you both when a trend is over exhausted and the direction it's headed. Plus, it saves you real estate on your screen by consolidating multiple currency pairs across multiple time frames in one view.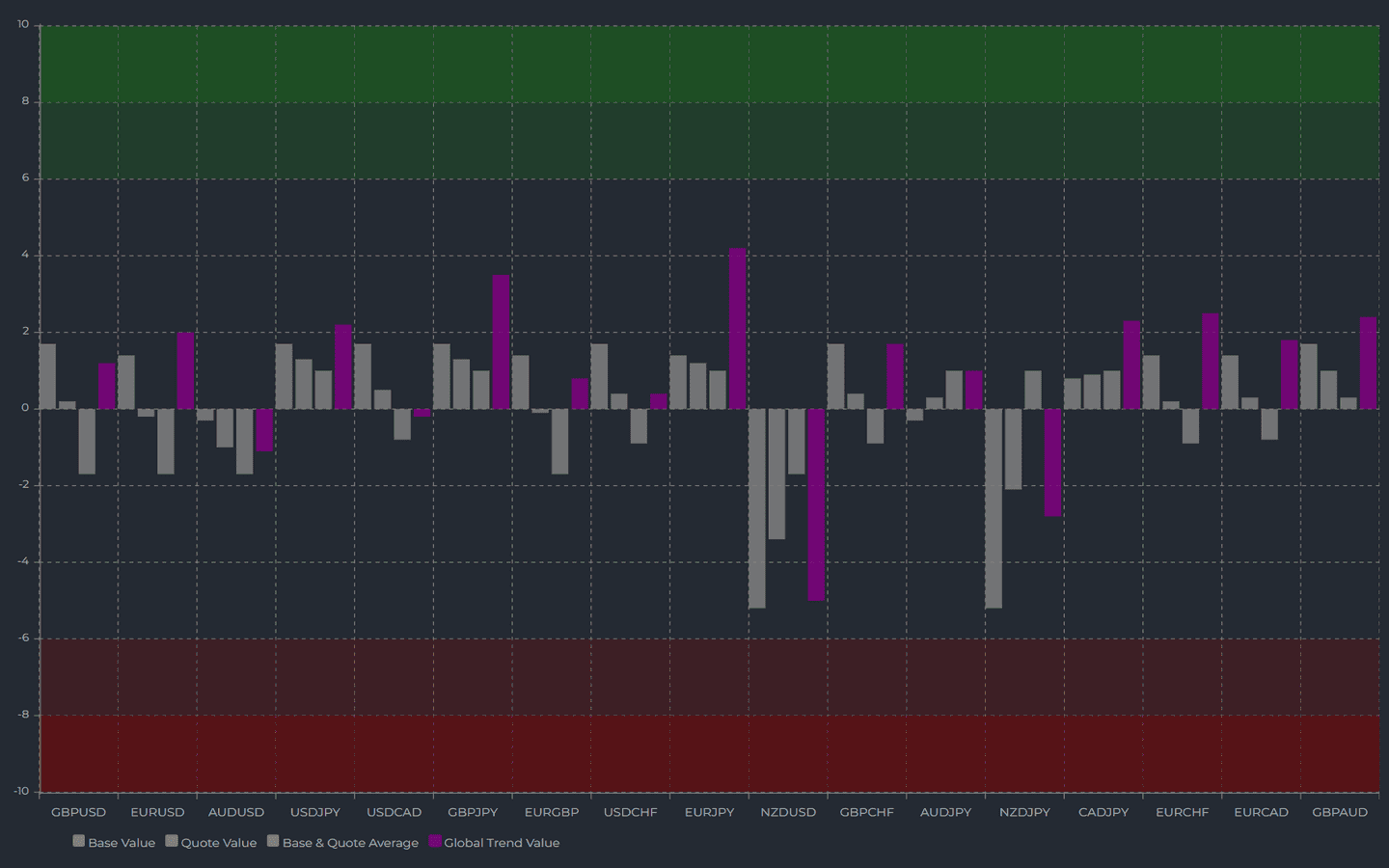 The Currency Matrix breaks down currency pairs, and the CVB Matrix takes the data from each individual currency and aligns it with the base and the cross for lightening-fast analysis across the 17 most traded Forex Currency Pairs! Yes, there's more to it than that, but that is the easiest way to explain it!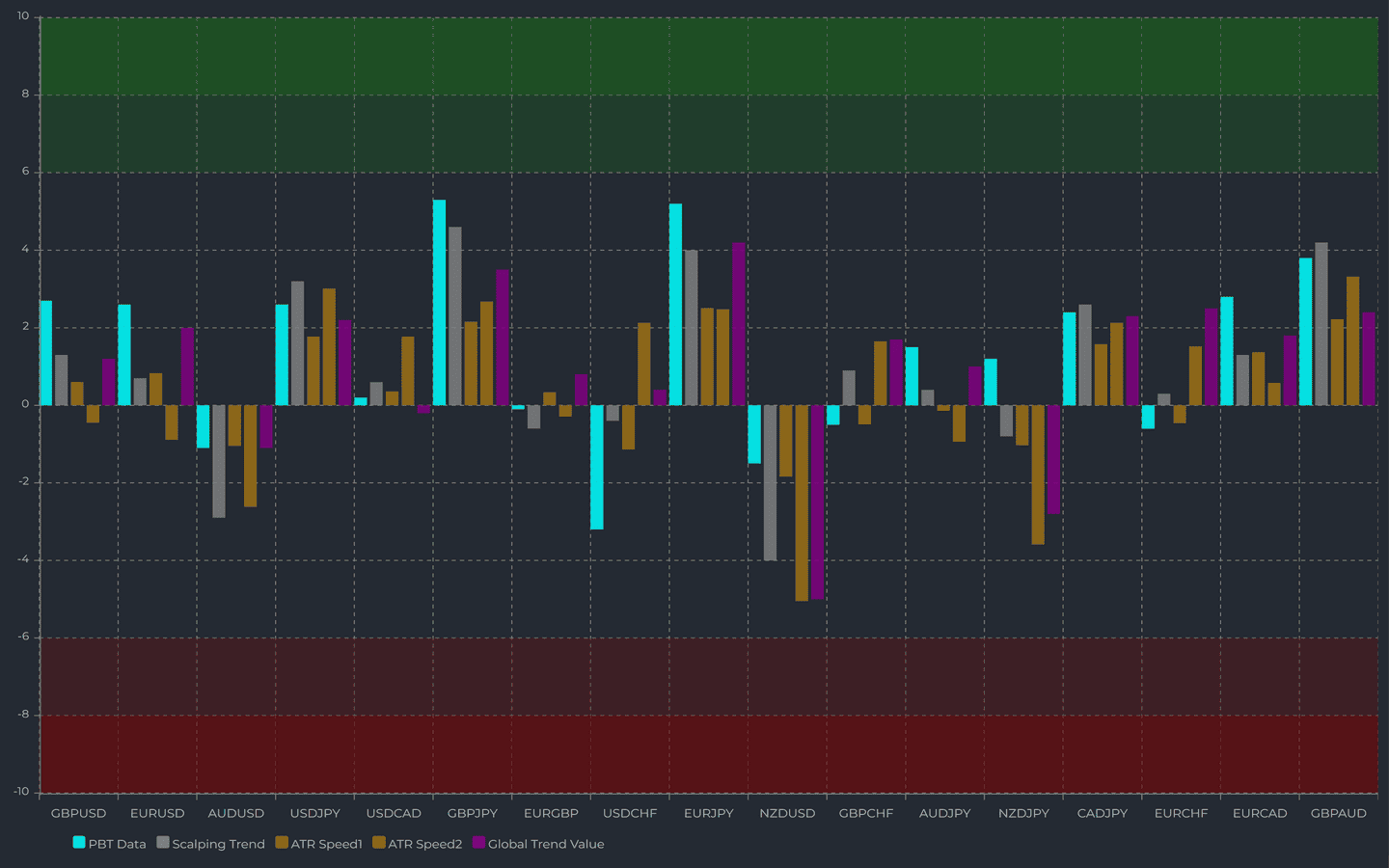 Designed for high-frequency traders, the Scalping Matrix predicts trends based on predictive bias trend data (PBT). The Scalping Matrix helps high-frequency traders analyze the market from a single view (versus gleaning from other metrics). Be warned! This tool is seriously addictive!
Signals are generated from our proprietary trading systems and tools
Sends real-time trade signals 24/5 – if the retail market is open, the trade signals will send
Our Matrix Trade Signals track 17 currency pairs (we will add more very soon!)
We take a live chart shot with each trade signal so you can reference the market
We have fixed formula for calculating your Stop and Limit
We DO NOT have multiple targets or other gimmicks – these are set-n-forget trade signals – you still need to monitor your trades, but that's it
Here's the gist: We know some traders don't want to find their own trades. At least not at first. So we created a powerful (and accurate) trading system from our tools. Our Matrix Trade Signals run from market open to market close each week. They include the exact entry price (we will teach you how to calculate your Stop and Limit for each trade) with a buy or sell indicator, a live chart shot so you can referrence the market and a timer so you know how long each signal has been running. 
Yes, if you chose to, you could ignore our tools and just use our signals, but please don't. We will teach how to use both and eventually find your own trades. The ole "teach a man or woman to fish and all that…". 
GO PRO & Get access to all of our tools!
Become a 4XVision Pro Member and leverage the most powerful Forex trading tools on the planet! Supercharge your trading today!